If your children ages 7 and on are not following the Imagination Station Books, they are definitely missing out on a real treat. The books are fictional, but from a historical viewpoint. I enjoy reading the stories out-loud to my own children. The action is riveting; especially for a child's book. So far, these two books: Showdown with the Shepherd and Problems at Plymouth are my favorites.
Review of Showdown With the Shepherd #5
by Marianne Hering and Brock Eastman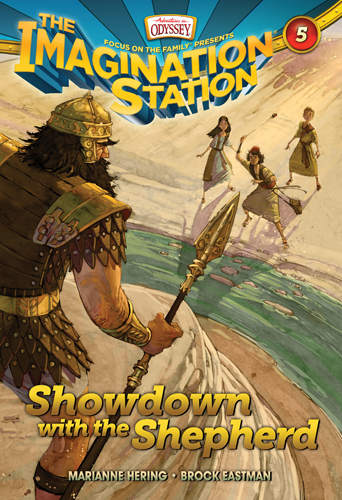 Take a minute to guess. Which biblical story will this book depict? Yes, the book gives the reader a spectators view of the battle between David and Goliath. Cousins, Patrick and Beth are strategically placed in the story, and they don't miss a beat. Check out this excerpt from the first chapter.
"Patrick made eye contact. The bear stared back. It opened its mouth. Patrick could see its sharp white teeth.
Patrick Threw himself at the tree. He jumped and clawed upward.
This time Beth grabbed hold of his wrist. She felt the knots of his bracelet dig into her palm.
Patrick dangled by one arm
ROWL…." (Hering and Eastman p.18).
Talk about excitement and suspense; my children were glued and so was I.
The book weaves into the story a skillful playful tale about Patrick and Beth's adventures traveling back into David and Goliath's time using Mr. Whittaker's imagination station, which is similar to a time machine. The story is a part of a fictional book series, which follow the children's adventures to different parts of the world many years ago. A common mission to help Mr. Whittaker solve the mystery of why the imagination station will no longer work for him connects all the stories. The focus of the cousins mission has changed from helping Albert to returning Hugh to his own time. The best part of the stories is that they give children a chance to anticipate what will happen next. Children learn to develop a longing for learning about history from these fictional story-lines. I believe this is helpful because when children encounter these different historical references in school they will have something else to connect the information to. in their minds.
Review of Problems at Plymouth #6
by Marianne Hering and Marshal Younger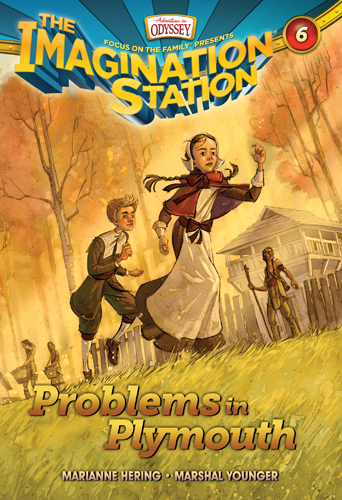 Just in time for Thanksgiving. I have been trying to teach my children the basics of Thanksgiving and this book does a superb job. The book is for children a little older than mine, so it is perfect for those 7 and above. The book touches on the uneasy relationship between the Pilgrims and the Native Americans. The book also does a really good job of giving you a chance to walk in the moccasins of both groups, setting the stage for the reader to develop sympathy for all those involved. It touches on conflict, mediation, and resolution. This is a great book for opening the dialog about American history. For children, it will help to answer the question why the Puritans sailed to the Americas many years ago and what types of challenges they faced in a new land and with the Native Americans in the areas of language, food shortage, sickness, death, war, etc. It also gives them a glimpse of why it is important to work with others and listen to your parents. The book's ending really establishes a desire for the reader to want to read the next story. I can't wait to find out what will happen to the cousins in their next adventure!
Do you want to hear more exciting stories for children?
Listen to Adventures in Odyssey on whitsend.org.
Visit the Imagination Station website.
Tyndale House Publishers has provided me with a complimentary copy of the book. This review is from my honest opinion.
Buy the books:

Win the books (#5 and #6):
No purchase necessary. This giveaway is open to US and Canadian residents over the age of 18 years old only. This giveaway begins November 8, 20011 at 12:01 am E.S.T., and will end on December 1, 2011 at 12:01 am E.S.T. The winner will have 72 hours to contact me before another winner is selected. Winners are chosen via the Rafflecopter below and contacted by email.