Nominations were submitted for the 2011 Black Web Blog Awards and now it is voting time. Thank you all so much for nominating my blog! This is a huge honor because only the top 5 blogs nominated went on to the voting stage. My blog is mentioned in the BEST PARENTING or FAMILY BLOG category (#19). So I need your help again. Please vote for http://CleverlyChanging.com. Voting begins May 16 and ends June 17, 2011.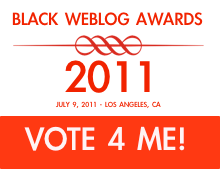 Here is a link to the official ballot: http://blackweblogawards.com/2011vote/(I believe my blog is mentioned on page 3). Remember: The voting system will only let each computer cast one ballot. So friends and family cannot gather in one room and take turns voting.
When navigating through their ballot pages (there are about 5) if you do not see an icon that says "Next Page, please press the Tab Button to make it appear so that you can go on to the next page.